€

38.50
"Costa dei Trabocchi", Gentile di Chieti in purity, grand cru - Organic and Biodynamic Demeter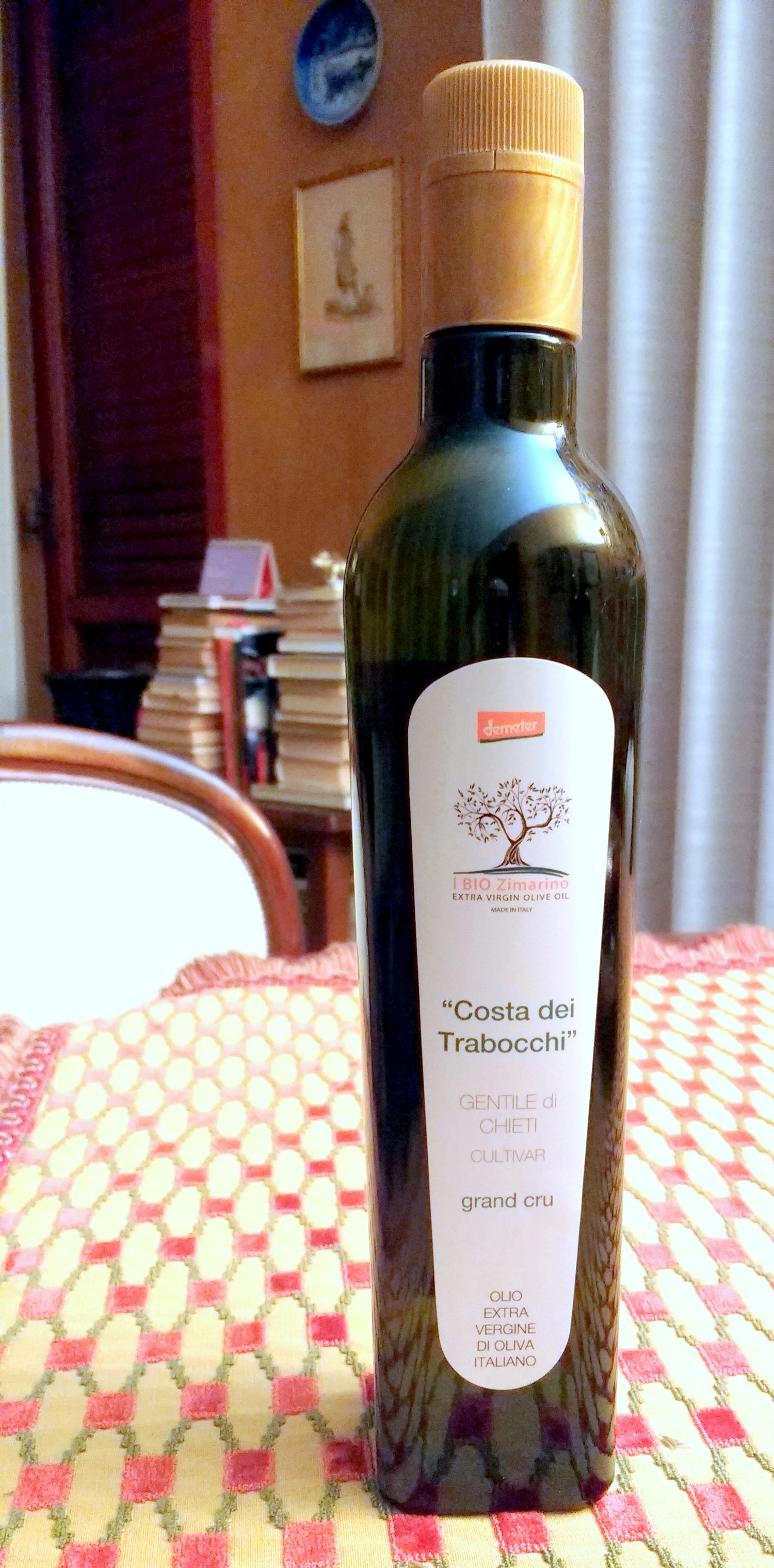 beyond organic...
~ FRESH HARVEST 2017 ~
★ Gold Medal Los Angeles Extra Virgin Olive Oil 2012 ★ Silver Medal Olive Japan 2012 ★ Prestige Gold Terra Olivo Jerusalem 2012 ★ Grande Olio Slow Food EVOO Guide 2012 ★ Prestige Gold Terra Olivo Jerusalem 2011 ★ Tre Olive Slow Food EVOO Guide 2011 ★ 1st Prize Sirena D'Oro 2011 ★ Gold Monocultivar Olive Oil Expo 2011 ★ 1st Prize with 5 Drops of Gold L'Oro d'Italia 2010 ★ amongst others!
*Certified Organic by IT BIO 009 CCPB - Italy Agriculture
*Certified Biodynamic by Demeter Italy N. 343 - Italy Agriculture
The farm is family run. The farm covers an area of 9 hectares in the territoy of Vasto City, province of Chieti, in the heart of Punta Aderci Natural Reserve at an altitude of 27mt on the sea level, along the splendid Trabocchi Coast, one of the most prestigious and enchanting places on the Adriatic coast of Abruzzo. The farm follows the rules of Biological Agricultural and Biodynamics Demeter and observes the specification of the Protected Designation of Origin "Colline Teatine Vastese" to guarantees its provenance.
Harvesting occurs mainly by hand, with the help of shakers that drop the olives on special nets, and are just the olives that fall on the harvesting nets that are brought to the crusher for cold squeezing, wich usually takes place within 5 hours.
Our goal is to start harvesting in the morning to bring olives to the oil mill at the end of the day to get the highest quality. All crusher operations are performed with careful attention with strictly cold extraction. After extraction, the oil is filtered to completely eliminate sediments and stored in stainless steel silos at controlled temperature in the absence of oxygen. Bottling takes place at the time of ordering from the customer, to retain the fragrance more.
A must have for any connoisseur!
It is presented in a hand-crafted solid pine wood case, also making it a perfect luxury gourmet gift.
The "Costa dei Trabocchi" Gentile di Chieti in purity, grand cru, is a unique, traditional, capable of expressing a complex land like the Abruzzi. Oil remarkable, captivating taste that, with low-alkyl esters, high profile Biophenols, rich in oleic acid, antioxidants (vitamin E and polyphenols) and no pesticide residues. After an hour of tasting you will still have the palate hints.
It is used in some of the most prestigious five-star hotels around the world, as well as by famous Michelin and Gault-Millau starred chefs in Italy and elsewhere, due to its superior depth of taste and quality of its health properties.
To produce high quality oil (Nutraceutical, genuine / natural, bio-dynamic Demeter) from olives only by its own olive groves, in Italy it costs a lot. Our oils, inevitably, come out on the market with high-end prices and not are available at major retailers.
It is made using the highest possible standards of cultivation and production in bio-dynamic agriculture, a sustainable method of organic farming that emphasises the holistic development and harmony of relationships between the soil, native vegetation and cultivars within and around the farm, creating not only the most natural olive oil environment, but a wildlife oasis.
I BIO Zimarino oils are extra virgin olive oil that can boast three health claims granted by the EFSA (European Food Safety Authority):
1) the extra virgin olive oil is a food rich in vitamin E, which protects the body cells from oxidative damage
2) replace fat saturated fatty with acids monounsaturated and polyunsaturated fats contained in the extra virgin olive oil, may help keep LDL cholesterol levels in the blood
3) the poly-phenols contained in olive oil can prevent oxidative stress, have antioxidant effects, improve fat metabolism, protect LDL fraction from oxidative damage.
An excellent EVOO is defined by flavorings, perfumes, essential to the presence of unsaturated fatty acids, natural antioxidants, chlorophyll and vitamin E, enzymes and vitamins vitamins B and C. It makes no sense to evaluate it based on the cost unit, it makes more sense instead to calculate the daily cost per capita to realize that just a few cents well spent to ensure the health of the whole family or the real quality of Restaurants.
According to UE Regulation 432/2012, Tenuta Zimarino Masseria Don Vincenzo can boast the following statement:
"poly-phenols of olive oil contribute to the protection of blood lipids by oxidative stress, but the beneficial effect is obtained with a daily intake of 20g of olive oil"
TASTING NOTES:
"Costa dei Trabocchi" grand cru is Gentile di Chieti in purity. It's fruity intense, grassy character evokes hints of almond and artichoke. With impressive and well balanced structure it tastes initially sweet yet offers spicy and slightly bitter sensations on the palate, is harmonious and of medium intensity. A lovely sweet but strong tasting oil that will surprise the most demanding palates. Lovely if tasted raw with bread.
PAIRINGS:
Beluga caviar varieties, Ossietra and Sevruga; Smoked salmon; Oysters; Seafood; vegetable soup; Vegetables; boiled; Grilled meats; Aged cheeses. Perfect with raspberry ice cream. Ideal for dishes ith pronunced flavors.